Podcast Details
Live Life With Purpose is the podcast that teaches you how to live with purpose in every area of life. Living life with more purpose will be beneficial to not only you, but those around you. This podcast will increase focus, better your productivity, and strengthen every relationship in your life.
Subscribe to Live Life With Purpose and receive a new episode every Tuesday.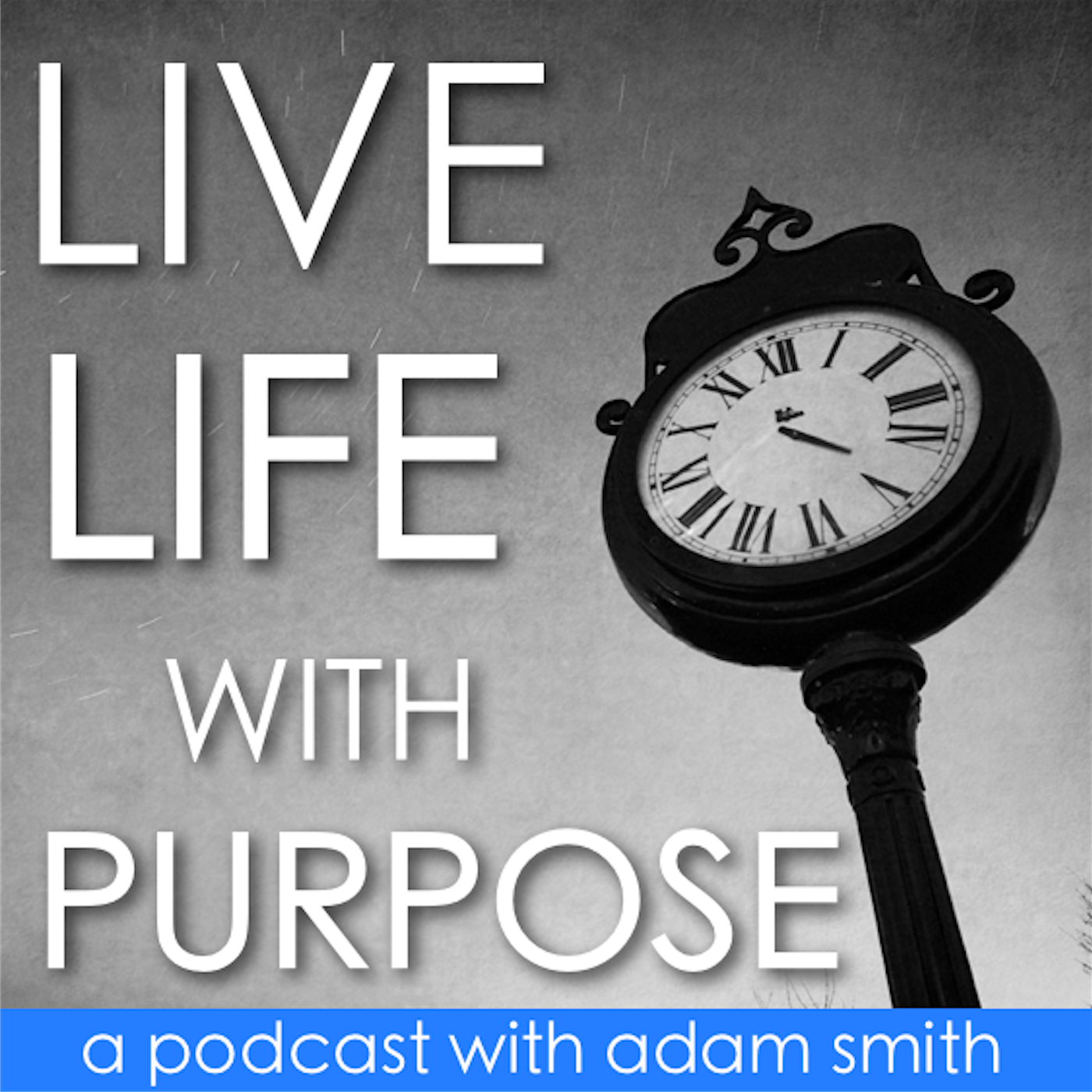 Adam Smith - Live Life With Purpose
Get the full list of episodes here:

#121: My Biggest Weakness
#120: At Some Point You Have to Make A Decision
#119: How to Save Hours of Time Every Single Week
#118: Three More Ways to Be Nice
#117: How to Do Something That Matters
#116: There's More Time Than You Think
#115: Do Anything But Sell Your Product
#114: You and Your Work Aren't for Everyone
#113: 3 Questions to Ask Yourself to Find a Life Full of Passion
#112: Everything Has a Cost
#111: Stop Seeking Permission and Approval to Work
#110: 3 Ways to Become More Productive
#109: Why It's Necessary to Be Proactive
#108: Do What You Love; Love What You Do
#107: Your Happiness Is Yours, So Hold Onto It
#106: You Have to Learn How to Adjust
#105: The 3 Types of Questions You Need to Be Asking
#104: How to Build the Best Life Plan
#103: Quickly Make Better Decisions
#102: Should You Care About What Other People Think?
#101: Leadership and Grabbing Attention
#100: What Should You Do When You Don't Get Easy?
#099: This Is What Really Matters
#098: The Power of Silence
#097: Value Is the One Word That Changed My Life
#096: How to Efficiently and Effectively Help People Find Success
#095: Four Ways to Make Your Best Work Even Better
#094: How to Stop Feeling Overwhelmed
#093: How to Build Better Relationships Within the Workplace
#092: How to Make Better Decisions
#091: How to Get Your Work Noticed
#090: 4 Ways to Make This Year Better Than Last Year
#089: Why New Year's Resolutions Don't Work
#088: How to Stop Complacency and Begin Making a Difference
#087: The Best Way for You to Know Which Ideas You Should Pursue
#086: The Best Way to Look at Marketing
#085: How to Create Better Products
#084: How to Have Great Ideas
#083: It's Time to Fight For What You Want From Life
#082: "Just Do It" Is Terrible Advice Without Preparation
#081: People Don't Always Need Your Opinion In Conversation
#080: Credibility Is Necessary for Leaders
#079: You Should Be Measuring Your Amount of Focus, Not Your Amount of Time
#078: How the Fear of Looking at Reality Is Hurting Everyone
#077: The 6 Words You Need to Stop Using Right Now
#076: The 4 Biggest Differences Between Leaders and Bosses
#075: 14 Steps to a More Confident You
#074: How to Identify the Right Priorities in Your Life
#073: 8 Signs It May Be Time to Quit
#072: The Power of Positivity
#071: Be a Good Steward with What You Already Have
#070: Create A Better Company Culture
#069: Why Looking at Your Past Is so Important
#068: Four Ways To Be Happier Than You Are Right Now
#067: Quit Being Too Busy
#066: 5 Tips to Simplify Your Life
#065: How and Why to Get More Sleep
#064: Make Life Easier With These 7 Steps
#063: Your Story Matters If You Want to Build Community
#062: Take Action
#061: Fear Can Be A Good Thing
#060: Why You Should Start A Blog
#059: What I Look For In A Mentor
#058: How To Grow An Audience
#057: Do What Is Necessary to Create
#056: Your Plans Will Change
#055: Be Thankful For The Journey
#054: How Are You Doing On Those 2015 Goals?
#053: What Tools Do You Already Have?
#052: Take Back Your Time and Have More Influence
#051: Leadership Books Are Missing Three Things
#050: Consistency Takes You to The Next Level
#049: Selfish
#048: Just Do What Is Important
#047: The Best Ways To Use Evernote As A Writer
#046: Want To Be More Effective? Add More People.
#045: The Second Different View On Time Management – The Importance of Sleep
#044: The First Different View On Time Management
#043: The Real Issue With Time
#042: Peel Back The Layers To Life
#041: Positive Thinking Is Good, But Action Is Better
#040: Adversity Is A Good Thing
#039: Build A Better Legacy
#038: Love People
#037: Stop Trying To Be A Perfectionist
#036: Why Is It So Difficult To Be Honest With Ourselves?
#035: Renew Your Mind
#034: Stop Complaining
#033: Positivity Is So Much Better Than Negativity
#032: Quality Time, Not Amount of Time
#031: Leading Starts In Your Home
#030: The Power of Minimalism
#029: Have More Peace In Your Life
#028: Why "You Need to Make More Mistakes" Is My Most Popular Post
#027: What Should I Do Now?
#026: The Need For Encouragement
#025: Forgiveness
#024: Giving Is A Principle
#023: Communicate More Effectively
#022: Be Available
#021: You Need A Mentor
#020: Take Permission
#019: Create More Momentum
#018: Know What Is In Your Control
#017: Take Creativity To Your Life
#016: Self-Discipline
#015: Your Work Can Be Better
#014: Stop Worrying About Your Calling
#013: Stop Doing Things for The Wrong Reasons
#012: You Need More Margin In Your Life
#011: You Need To Capture A Captivating Story
If you have enjoyed Live Life With Purpose, please leave a review on iTunes. Thank you for listening.
© asmithblog.com. All rights reserved No part of this document may be reproduced or transmitted in any form or by any means, electronic, mechanical, photocopying, recording, or otherwise, without prior written permission of asmithblog.com or Live Life With Purpose.